Série ultra limitée !! 10 pieces confectionnées uniquement  Tissu denim HBT délavé 100% coton - Tissé au Japon -Tissu ultra...
Learn more
Offrez des cartes cadeaux A PIECE OF CHIC utilisables pour tout achat sur notre site www.a-piece-of-chci.com uniquement, et ce pendant...
Learn more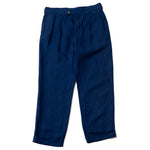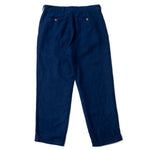 Pantalon à pinces, coupe ample. Toile 100% lin , coloris indigo,  souple qui s'adoucit au fur des lavages ....
Learn more
Just fantastic. The jacket is not too snug, fits very well in my size and slipping in and moving out of it is very smooth, also due to the lining used. A really lovely jacket which is dense in material and comfortably to wear. Absolutely recommendable!
Oliver - Germany
The brandname says it all! A piece of Chic around your neck: soft and light, brilliant to wear it during these cool autumn days
Christophe - france
I love this jacket! The Burel fabric is absolutely wonderful! The jacket is simple (in a positive sense!) in design. The short cut makes it easy to sit down and the fabric doesn't crease unnecessarily.
Ulrich - Germany
"J'ai acheté le gilet "compagnon". J'en suis super content et j'apprécie vraiment tous les détails de finitions et la qualité des tissus choisis! Chapeau."
Stéphane (FR)
"The sweater (Flyback) fit perfectly. I have been wearing it everyday."
Theodore - US
"D'une qualité irréprochable et dans une couleur magnifique, cette veste (blouson "Torpedo") sera à coup sûr une de mes pièces fortes. Très agréable à porter, elle tombe parfaitement. Je vous la recommande à 2000% "
Fabrice Lacroix - france
"Great design, color mixing (the red is beautiful), fit & super woven. I love this piece (Murderdrome jumper)."
Fernando - GERMANY
Outstanding service, outstanding quality. Highly recommended! Fantastic quality ("expedition" smoke jacket), made in Europe. Always a great pleasure to do business with a piece of chic. They make some great stuff.
yuri - holland
This section doesn't currently include any content. Add content to this section using the sidebar.